Newcomers Conference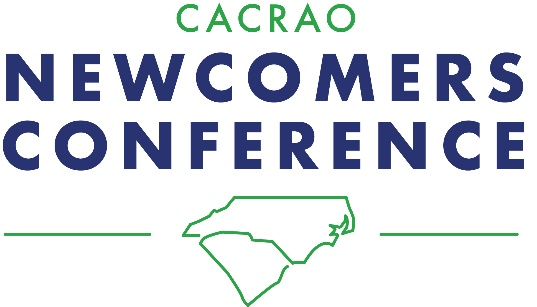 July 10-12, 2023
UNC Charlotte Marriott Hotel & Conference Center
The Newcomers Conference is an annual workshop designed for new admission professionals to learn real-world experience. The program provides training in critical skills for success and discussion of pertinent issues and situations encountered in the admission profession. Participants will attend presentations, work within small-group settings, and will have plenty of networking opportunities with leaders and other newcomers in admissions. This is a great training opportunity for any of your new hires.
Monday, July 10
Check-In - 12:00-1:00 PM
Sessions - 1:00-5:00 PM
Evening Activity - 5:30-7:00 PM
Tuesday, July 11
Sessions - 8:30 AM-5:00 PM
Evening Activity - 6:30-8:30 PM
Wednesday, July 12
Sessions - 9:00 AM-12:00 PM
Depart - 12:00 PM
Presentation topics will include:
How to get involved in CACRAO
Admissions 101
Travel smart
FERPA
Time management
Navigating and engaging in virtual events
Understanding communication plans and strategies
Advice from seasoned admissions professionals
Register by July 3, 2023. Registration covers the cost of attendance including most meals and activities.
$125 for CACRAO member institutions
$135 for CACRAO non-member institutions
Payment should be submitted by credit card through the registration site or by sending a check made out to CACRAO:
CACRAO
ATTN: 2022 Newcomers Registration
PO Box 487
Youngsville, NC 27596
(Checks should be postmarked by July 25th.)
Accommodations
In order to ensure the conference rate and room availability, the deadline to reserve a room at the conference rate is June 12, 2023.
Participants will be responsible for booking their own hotel room at the UNC Charlotte Marriott Hotel & Conference Center. To reserve a room in the CACRAO Newcomers block, participants will need to call the reservations 1(800) 228-9290 or by using the online reservation link above. Each individual will be required to provide a credit card at check-in to cover all charges. There is a $75 per night incidental hold that will be authorized upon check-in, as long as they do not charge anything to the room, they will receive this authorization back.
July 10-12, 2023 (2-night stay)
Room Rate: $160.00 per night + taxes



Key Contacts
If you have questions about the Newcomers Conference, contact Katie Beeson at This email address is being protected from spambots. You need JavaScript enabled to view it. or Jen Tollison at This email address is being protected from spambots. You need JavaScript enabled to view it..